Normal people aren't supposed to have wet dreams about video equipment.  Thank God we're not normal. Top of the wet dream list?  The Panasonic AG-AF100.  Lust factor: 11.
This sick puppy is the perfect hybrid between DSLR and prosumer video camera.  It does interchangeable lenses.  Shallow depth of field. Variable frame rates (1080 60i and 720 60p).  XLR audio inputs.  And built-in zebra, bars, and OIS.  Plus, it has a little foldable LCD screen that we missed oh-so-much!
The only drawback is the  4:2:0 color compression, which makes it less than ideal for our green screen work.  Fortunately, we've found a work around:  The Atomos Ninja box — a Apple ProRes Field Recorder.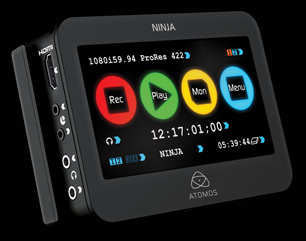 It's an external monitor that records 4:2:2 color, 10-bit uncompressed HD video AND  takes cheap storage!
God, our dreams just got wetter…